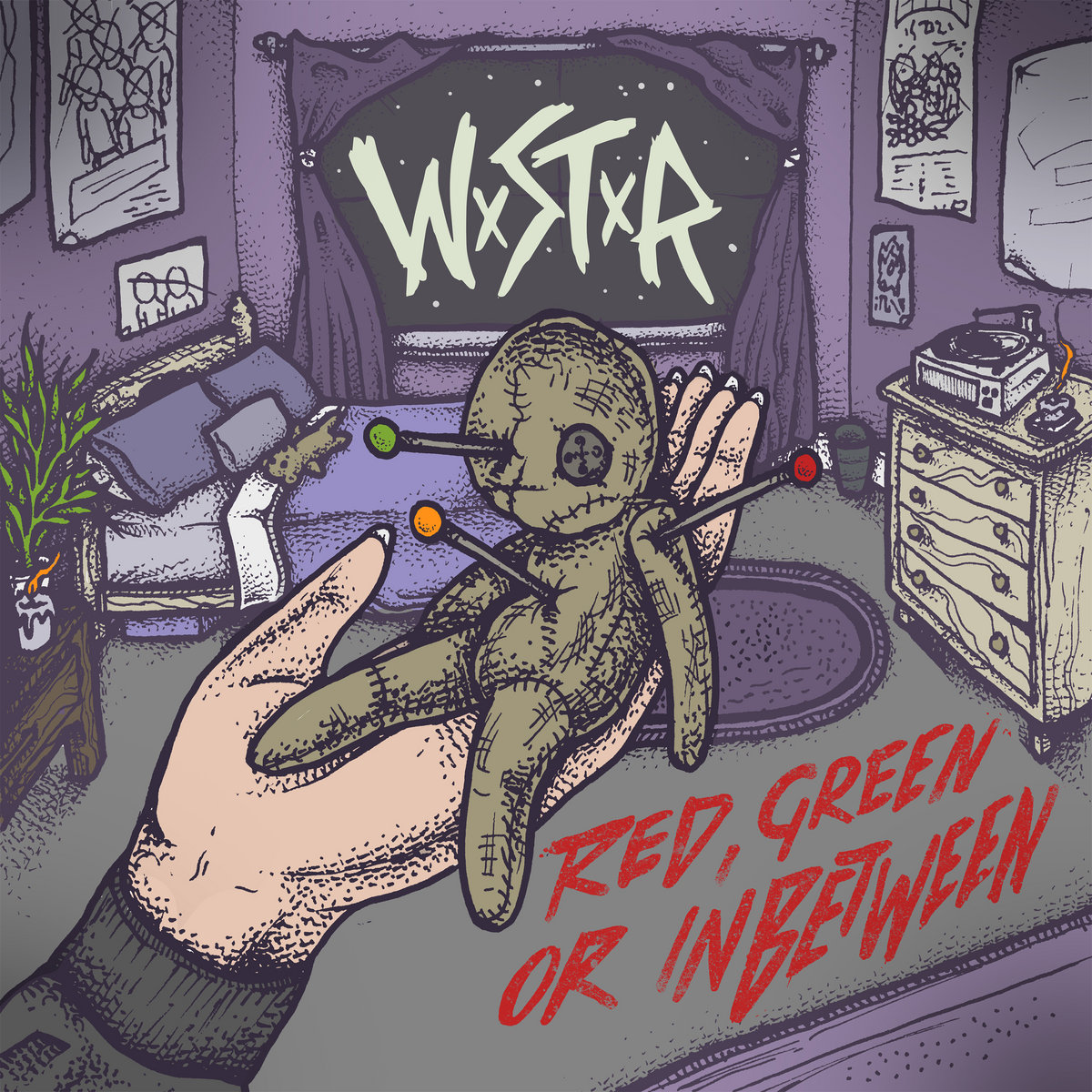 In January 2017, WSTR released their long awaited first album, Red, Green or Inbetween, on No Sleep Records. This album follows their debut EP SKRWD, which to this date remains one of the strongest debut EPs I have been fortunate enough to hear in the entire genre of pop-punk. With songs as powerful as Graveyard Shift and South Drive, it was exciting to hear what the band could do on a full length album.
While largely following the same blueprint as the EP before it, RGOI sees the band broaden their sound within the pop-punk spectrum, following a similar path to fellow local band Neck Deep by combining their catchy and hard hitting songs with a few melodic and anthemic songs. While this may sound like a criticism, especially for a band regularly hit with a comparison to Neck Deep, I feel like this unavoidable in the pop-punk scene. Classic, fast, hard hitting pop-punk is made for short releases – EPs in the genre are generally stronger than in many other genres. It is often wondered how effectively a band will transfer that sound to a full length album, where a band simply cannot make 10-12 songs in an identical structure if they want to maintain interest.
What is impressive is how well WSTR adopt this new sound and actually produce some of their finest songs to date with this formula: Eastbound & Down is undoubtedly one of the highlights of the record, with lyrics that anyone unlucky in love can relate to and sing their hearts out to, along with fantastic use of vocal harmonies in the chorus. The album closer, Punchline, is another fantastic example of the band's growth. While not dissimilar to their previous work, it is a fine example of the lyrical and musical growth of the band, with another anthemic chorus of "maybe I'm a fucking joke, the punchline to a thousand TV episodes", and of course, all those whoa-oh-ohs.
It wouldn't be a review of RGOI without at least mentioning the lead single Lonely Smiles, which in my opinion is the best song that has come out so far this year, and by a long, long way too. The song is the perfect follow on from SKRWD and showcases the best of the band from that EP while also serving as an introduction to the lyrical growth and the sheer relatability of the new lyrics. If this song doesn't have you wanting to jump up and down and sing from the bottom of your lungs, I'm not sure that anything in the entire pop-punk genre will.
Does RGOI improve on SKRWD? Well, yes, there's no debate there. Even tracks I haven't mentioned, like Footprints, Nail The Casket (Thanks For Nothing) and of course Gobshite, are instant classics in not only WSTR's impressive catalogue, but also in the UK pop-punk scene. WSTR, like Neck Deep before them, are destined for big things in the scene, and it would not surprise me to see them break mainstream consciousness in the next five years.
8.5/10
Check Out: Lonely Smiles, Eastbound & Down, Footprints